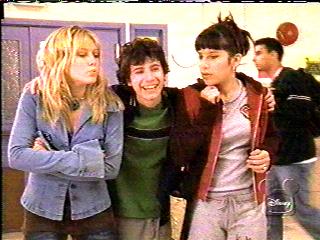 From left: Lizzie, Gordo, Miranda.
We all know what Lizzie, Miranda and Gordo are thinking now: 3-way calling is SUCH a pain as far as little brothers go.
Lizzie, Miranda and Gordo cheer on Kate as she tries to try out for the cheer sqaud again to re-gain her posistion as captain and get revenge on Claire, in the Claire Goes Wild episode.
From left: Matt Mcguire, Sam Mcguire, Jo Mcguire, Lizzie Mcguire, Miranda Sanchez and David "Gordo" Gordon.